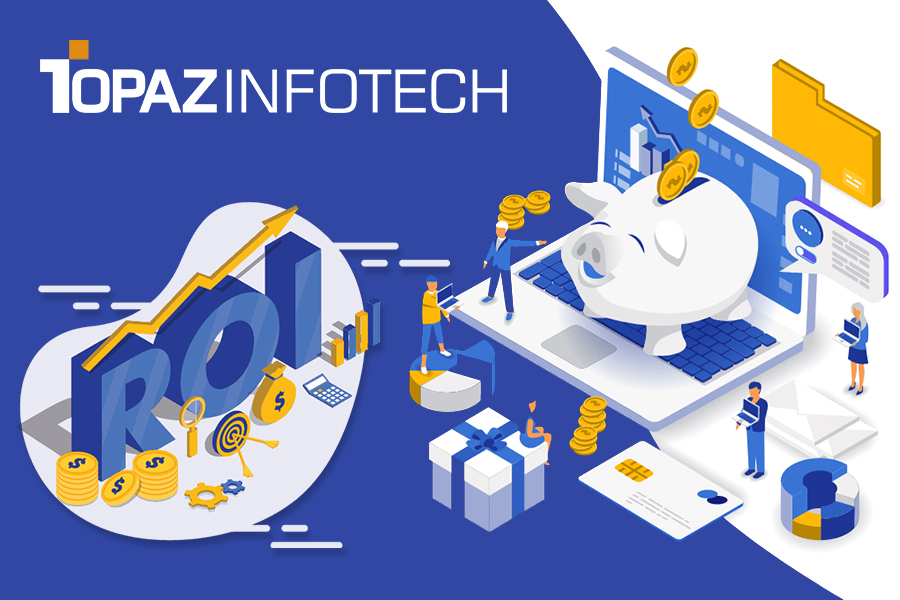 The Most Important Website Features To Help You Increase Your ROI
Your website is the most potent marketing tool in the arsenal. If you can design it well, it can act as an effective lead-generating machine. With the help of the top web design services like Topaz Infotech, your site will gain organic traffic and also improve the return on investment(ROI).
But there lies a huge stretch of the challenging patch before we can position your brand appropriately on the global platform and assure you maximum visibility. Here are the features that we incorporate in the website designing process to connect you to the larger target audience.
1. User experience
UX implies user experience that refers to how a user will feel on visiting a website. When our website design services plan the design for a website, we will always focus on offering a positive experience to your potential customers.
We emphasize the usability and functionality of the site.

The website and the links must load quickly.

Effortless navigation system

Strategic placement of call to action button.
We try to think from a customer's point of view to design the pages. If a customer has to wait for more than a few seconds for your page to load, you are going to lose the prospect.
Our company will intervene right at that point by minimizing the loading time through optimization and offering the users a smooth experience on the site.
2. Quick loading pages
Almost half the section of online users expects any webpage to open within a couple of seconds. A slightly higher waiting time will cost you the loss of a customer. If you think from the sales point of view. You may lose almost $2.5 million in sales in a year if your website makes $100,000 each day and has a second's delay in loading.
You cannot afford such a loss. So, investing in our web design agency won't be a bad decision after all.
3. Ease of purchase
Visitors will prefer buying from your site when the user journey is effortless. Online market research studies show that 28% of online shoppers abandon the cart during the checkout process, as it is too long and complex.
Our team of designers and developers will keep the checkout process as simple as possible to encourage prospective buyers to proceed with the payment.

We try to design the checkout page in such a way that the customers will get relevant choices of products just before checkout and add them easily even at the last moment.
Precisely, we guide your visitors to transform into paying customers from the prospective buyers. So, we play a significant role in channelizing the potential customers through the sales funnel, increasing revenue generation.
4. Maintaining a simple landing page
If you think that a colorful home page with many widgets and information is going to help you grow the business, you are wrong. Our website design agency will always find ways to maintain a simple landing page without clutter.
Allow the visitors to find out the links to the appropriate pages easily.

We refrain from using too many colors that distract the viewers.

The call-to-action button will be visible, enabling viewers to contact the company easily.
A simple and elegant design will always contribute to creating the best impression in the minds of the first- time visitors. It's no secret that visitors will have high expectations from the new website that they are visiting. Our job as web design services is to satisfy them and make your website live up to their expectations.
Importance of UX for ROI
If a first0time visitor has a bad experience with a website, the person will leave your site and spend the hard-earned money on a better site. Research studies show:
Almost 88% of online customers don't return to a site after a bad experience.

The majority of the customers agree that the first impression of the website is from assessing the design.

How easily you allow the users to find what they want is a key driving factor/ So if you want t earn more profit by enhancing user experience, you need to reply on our website design services.
Impact of easy navigation on ROI
We follow the golden rule of web design which says that we must eliminate every possible reason for a user to leave your site. If the navigation process is hard, a user will give up easily.
Clearly labeled navigation will improve your rank on the SERP.

The conversion rate will multiply once navigation is smooth and hassle-free.
Moreover, our web design agency will also make the call to action button prominent to re-direct the potential customers to the actual sales funnel.
Place yourself in safe hands
A unique way of thinking and a logical approach are indispensable aspects of designing a website. If you want to make your website more attractive and interesting to generate more leads and improve sales figures, you should hire Topaz Infotech.
We have helped many companies using our expertise as a top website design agency. Increasing the profit value of our clients is our sole motive. So, we suggest working hand-in-hand to give an exciting boost to the business and prove our worth.